For three days in July, 15 high school students from Watauga and Ashe Counties came together for a unique experience hosted by Appalachian State University's Department of Applied Design. The student participated in a design camp where they learned basic techniques in apparel design, industrial design and interior design.
Led by three faculty in the department, assistant professors Michael Rall and Dr. Anthony Wilson and associate professor Alex Poorman, the students spent a day immersed in each discipline working on projects themed around music. While on campus, the students learned industrial design techniques by creating musical instruments and accessories through hand renderings, practiced their interior design skills by crafting a scale bristle-board model of a musician's studio and tried their hand at apparel design by sewing a scaled clothing collection to fit a specific musical genre.
Appalachian students Jesse Cummings, an industrial design major from Raleigh; Ali Aita, an apparel design and merchandising major from North Wilkesboro; Laney Branch, an interior design major from Fayetteville and Summer Pankey, an interior design major from Gastonia, served as teaching assistants throughout the camp and were available to talk with students about their experiences in the department as well as helping them through each project.
Rall was pleased with the new format of the camp this year, which expanded to include apparel design.
"The camp gives students an early opportunity to see what each discipline in our department has to offer," shared Rall. "They learn about the design process and how it can be applied across different projects. Ultimately, we hope they come away inspired to learn more and engaged to take the next step."
The department hosts the camp each summer in July. To learn more, contact Michael Rall at rallma@appstate.edu.
About the Department of Applied Design
One of seven departments housed in the College of Fine and Applied Arts, the Department Applied Design at Appalachian State University fosters excellence in design education, design research and professional placement. The department balances theoretical and pragmatic approaches while exploring an awareness of impact through design decisions on the global community. Faculty focus on a holistic approach to creative problem-solving by integrating sustainability and ethical responsibility in teaching and practice. The department offers bachelor's degrees in apparel design and merchandising, industrial design and interior design.
About Appalachian State University
Appalachian State University, in North Carolina's Blue Ridge Mountains, prepares students to lead purposeful lives as global citizens who understand and engage their responsibilities in creating a sustainable future for all. The transformational Appalachian experience promotes a spirit of inclusion that brings people together in inspiring ways to acquire and create knowledge, to grow holistically, to act with passion and determination, and embrace diversity and difference. As one of 17 campuses in the University of North Carolina system, Appalachian enrolls about 19,000 students, has a low student-to-faculty ratio and offers more than 150 undergraduate and graduate majors.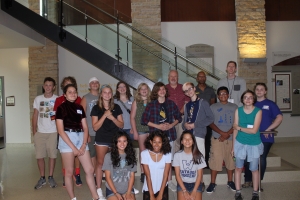 Tags: