Industrial design students at Appalachian State University have left a lasting legacy at the Moses Cone Manor on the Blue Ridge Parkway near Blowing Rock. The students, mostly sophomores enrolled in assistant professor Cameron Van Dyke's Preliminary Design Studio in the Department of Applied Design, designed and built furniture for the manor's mini-theater during the spring 2018 semester.
The project stemmed from a 2018 Chancellor's Innovation Grant awarded to Dr. Beth Davison, professor of sociology and co-director of University Documentary Film Services, to develop the manor's mini-theater in order to screen Appalachian video productionsabout the history of the Cone estate. Davison contacted Van Dyke to inquire about his design students, and the partnership took off.
According to Van Dyke, the project was a great opportunity to use a real-world problem to teach design thinking and furniture design.
"I realized that if we started right at the beginning of the semester, we could fabricate the furniture as well," he shared. "That was a critical part of the success of this project – the students knew that their design would literally be used by thousands of people every year and so they felt a strong responsibility to deliver a solution that was functional, durable and beautiful through the entire process."
Caylin Elkins, now a rising junior, appreciated the experience Van Dyke provided his students. She said that faculty try their best to mimic a professional environment in class, but nothing compares to actually designing for a client.
"We built every single piece from scratch from start to finish," said Elkins, who is from Orlando. "It was great not only to gain that experience in the shop but also to get a basic understanding of what a real-world design job will look like."
Both Elkins and Van Dyke noted that choosing the design was the most challenging aspect of the project.
"All of the students had different ideas," said Elkins. "It was days upon days of trying this and that and combining something with something else. It's exhausting and extremely hard for everyone to walk away pleased."
As a practicing designer himself, Van Dyke enjoyed offering his students the chance to work with a client while still in school.
"The most beneficial aspect of this project was that the students saw a design problem through from start to finish, and they had to be responsible for the outcome, whether successful or not."
Due to the students' perseverance and Van Dyke's leadership, the furniture was successfully fabricated and installed by the end of the spring 2018 semester. The theater seats 15 and is handicap accessible.
Davison was pleased with the outcome as well.
"The class did a great job of interpreting the manor house," she said. "They chose a design that matched the history and design of the house."
About the Department of Applied Design
One of seven departments housed in the College of Fine and Applied Arts, the Department Applied Designat Appalachian State University fosters excellence in design education, design research and professional placement. The department balances theoretical and pragmatic approaches while exploring an awareness of impact through design decisions on the global community. Faculty focus on a holistic approach to creative problem-solving by integrating sustainability and ethical responsibility in teaching and practice. The department offers bachelor's degrees in apparel design and merchandising, industrial design and interior design.
About Appalachian State University
Appalachian State University, in North Carolina's Blue Ridge Mountains, prepares students to lead purposeful lives as global citizens who understand and engage their responsibilities in creating a sustainable future for all. The transformational Appalachian experience promotes a spirit of inclusion that brings people together in inspiring ways to acquire and create knowledge, to grow holistically, to act with passion and determination, and embrace diversity and difference. As one of 17 campuses in the University of North Carolina system, Appalachian enrolls about 19,000 students, has a low student-to-faculty ratio and offers more than 150 undergraduate and graduate majors.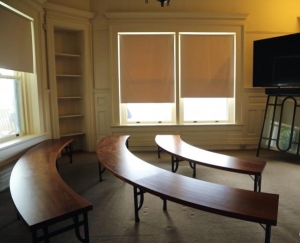 Tags: