For the first time, Appalachian State University design educators held a summer camp for high school students in North Carolina—introducing the youngsters to industrial and interior design. "Many of them were unaware of what industrial design or interior design was," says Assistant Professor Michael Rall, IDSA, "so it was great to expand awareness of the fields."
The two-day camp was attended by more than a dozen, rising 9th and 10th grade students from two western North Carolina counties. Rall, who's also the IDSA Student Chapter advisor at App State, says the camp could be expanded to welcome students from other parts of the state next summer.
The students completed projects in industrial and interior design; next year, apparel design may be added to the mix.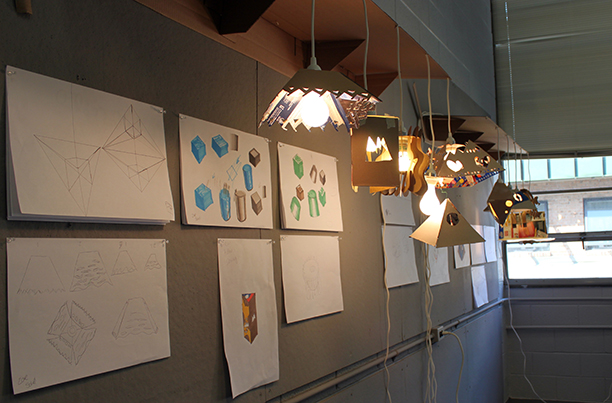 Example projects from the industrial design assignment. Photo by Meghan McCandless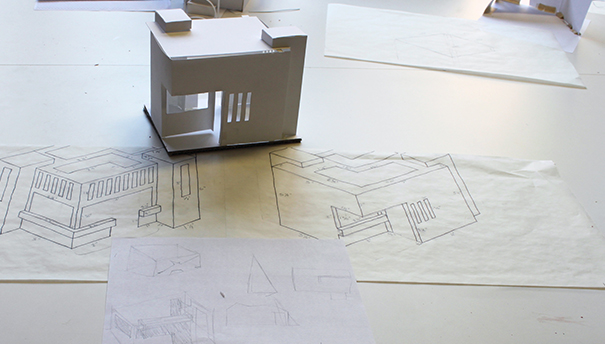 Example from the interior design assignment. Photo by Meghan McCandless

The camp was led by Rall and Alex Poorman, associate professor of interior design, with the help of GEAR UP (Gaining Early Awareness and Readiness for Undergraduate Programs)(link is external) and Bradley Tunstill, program coordinator, entrepreneurial education. The GEAR UP NC Appalachian Partnership is a federal grant program awarded to App State, providing college access resources and support to more than 14,000 students in 11 western NC school districts.
Students used recycled paperboard to create innovative light fixtures based on a popular mountain outdoor activities such as skiing, snowboarding, camping, rafting, hiking, etc. Students also learned some basic drawing techniques such as two-point perspective, shading, line weights and marker rendering, and about the many careers available in industrial design. They watched a digital presentation and short videos.
"The campers were exposed to the many opportunities that would be available to them as industrial designers, from designing vehicles to furniture and electronics to accessories. The campers did a great job of using the design process to complete the project each day, and in the end each one went home with something they designed and created."
To introduce interior design, campers built three-dimensional cardstock models that represented a quiet space on campus for students to relax. The assigned site was at the eastern edge of Durham Park across from Founders Hall. Students walk the site as part of a campus tour and considered the environmental and contextual factors that would influence their design.
In addition to each one day challenge, the campers were able to interact with several alumni of the Department of Applied Design through professional presentations. James Leath (2011), designer at Misty Mountain and alumni of industrial design discussed some of his professional work and passion for outdoor activities such as rock climbing. Two interior design alumni, Summer Whiney (2014) with JLL, Inc., a property management firm and Michelle McMillian (2011) with Studio Fusion, PA, an architecture and interior design firm, presented their academic and career experiences.
"One of GEAR UP's goals is to expose our students and families to as many post-secondary options as possible," says Tunstill. "Introducing the campers to industrial and interior design as potential majors and career paths broadens our students' knowledge of what is possible after they graduate from high school. We sincerely appreciate Michael and Alex for working with us in providing this camp for our students. It was a huge success!"
Tags: