Story by Laura Kellner (Kikkerland Design)
On February 2, 2020, 15 students from the Appalachian State University in Boone, North Carolina assembled at New York City's Javits Convention Center for the winter NYNOW International Gift Fair. They were gathering to study the fresh and fun products of Kikkerland Design for Kikkerland's 14th Design Challenge. This season's challenge was to design a unique product that promotes sustainable practice.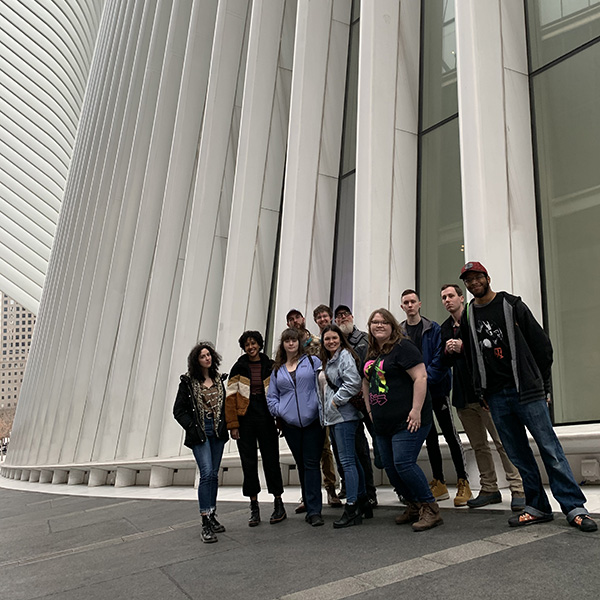 Students with Professor Corey at The Oculus (World Trade Center) in NYC, designed by Santiago Calatrava.
Kikkerland Design products are fresh and fun because the company is always looking for and promoting new talent. Starting in Philadelphia in 2009, the Kikkerland Design Challenges have taken place in Korea, China, Mexico and the Netherlands and have accomplished multiple goals: They help to introduce young designers to the international market, give them a real-life experience in bringing a product to consumers, support the work of worthy collaborators like Appalachian State Universities' vision for a sustainable future while keeping Kikkerland's offerings—and whole perspective—diverse, up-to-date and full of character.
This challenge however had its own challenge. Within the first few weeks of ideation the Covid-19 pandemic hit and sent everyone home with dreams dashed. Everyone from every walk of life had to pivot towards the unknown. Students everywhere that were once set up to do their studies in a supportive environment with experienced designer professors, peers and proper tools were sent home. The plan was for students to design through the spring of 2020 and present their work for public voting at the International Contemporary Furniture Fair/WANTED DESIGN exhibit in New York City in May 2020. All of which was cancelled.
hat happened next was nothing short of a great feat. While the challenge was delayed – the decision was made to go on. The student's advisor, App State Professor Donald Corey, a designer himself, made sure the students were set up at their homes away from campus. Still there were many hardships. Lack of internet, supplies, and close guidance made designing products harder than it already is, but it was important to persevere.
"This challenge was a valuable exercise for the students as they had to weigh commercial opportunity and sustainability – one of the biggest issues we are facing in the world. I was proud of the solutions that the students developed as many chose to approach their solutions from a hidden or unobvious approach to sustainability, attempting to make a difference in a subtle way. That is not to discount that their solutions are trivial, instead they are filling in the many steps it takes to walk the mile that is sustainable living," stated Professor Corey at the end of the project. "It was a wonderful experience working with Jay Lee and Jan van der Lande of Kikkerland Design, evaluating and directing the students all along the way. This project speaks to what a collaborative project needs to be, it provides students with the opportunity to work on a real problem, hand-in-hand with a professional partner, learning and understanding processes and needs associated in the real world."
Kikkerland Design's founder, Jan van der Lande, originally from Holland, knows well to nurture young designers. Kikkerland Design presents over 200 new products to the market every year. What better way than to offer an opportunity to students and sow relationships for years to come.
"It was a great pleasure to work with the Appalachian University Students under the leadership of our friend Donald Corey. Last January, design students visited our office and the NYNOW Trade Fair. We discussed sustainability and what it can mean for Kikkerland. We discussed what it is to be a designer in a world where there is already so much clutter. How can one be a better artist and what you can do to make this world better? Just as everyone got started the pandemic started. Nevertheless, everyone designed many wonderful concepts. The results are an amazing range of original products. Some students looked into kitchen and cooking, some looked into reuse, recycle and play. Sustainability is something most people really care about and that's why it is so much fun to work with Donald and his young students. They really wrapped their brains around this world challenge. The solutions make sense and give real meaning to our life."
The solutions do make sense. A committee from App State and Kikkerland Design will decide on an Academic Winner. The second winner will be decided by Popular Vote.
The idea of the Popular Vote winner is to get the public involved in the decision-making process. It gives the students an extra chance to appeal for their design to be produced. In the last 13 Kikkerland Design Challenges, the Popular Vote is not usually the same as the Academic Design winner. In many ways the popular vote holds more weight as the goal is a consumer product that people would buy. The winning products will then be licensed and sent to production and ultimately offered to retailers around the world.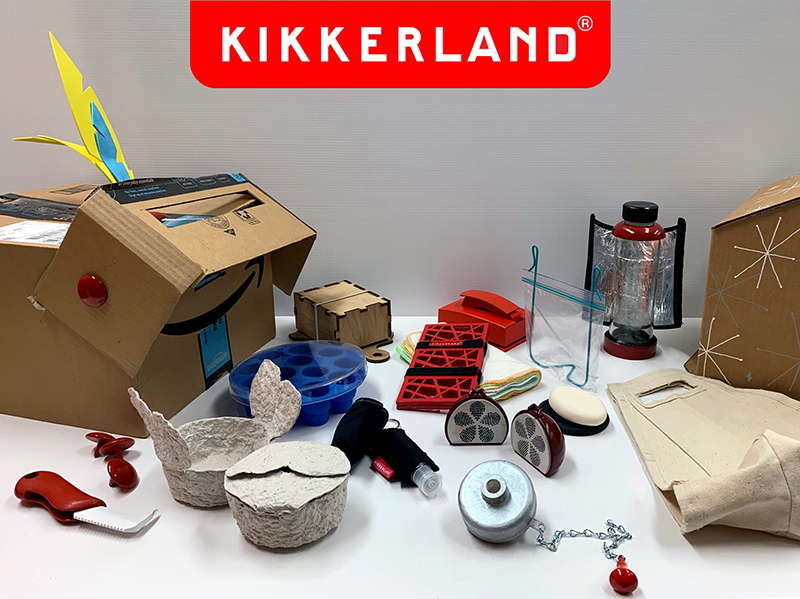 Student Prototypes for the Kikkerland Design Challenge.
Voting is open now on http://appstkikkerland.com and goes through December 15th, 2020. The Academic and the Popular Vote winners will be announced on December 17th.
About Appalachian State University
As the premier public undergraduate institution in the state of North Carolina, Appalachian State University prepares students to lead purposeful lives as global citizens who understand and engage their responsibilities in creating a sustainable future for all. The Appalachian Experience promotes a spirit of inclusion that brings people together in inspiring ways to acquire and create knowledge, to grow holistically, to act with passion and determination, and to embrace diversity and difference. Located in the Blue Ridge Mountains, Appalachian is one of 17 campuses in the University of North Carolina System. Appalachian enrolls more than 20,000 students, has a low student-to-faculty ratio and offers more than 150 undergraduate and graduate majors.
Check out Appdesignx.com for more Collaborative Projects.
About Kikkerland
Since 1992 Kikkerland Design has established itself as one of the top companies in the world offering unique, well designed products to inspire our customers. Kikkerland supports and represents independent self-producing designers from around the world. In addition, Kikkerland is committed to giving back to local and global organizations, ranging from ecological restoration projects to creative writing and design programs for underserved youth.
Tags: